S.T.E.A.M and the Arts! 21st Century Community Learning Center (CCLC)
The purpose is to establish 21st Century Community Learning Center programs that provide students with academic enrichment opportunities along with actives designed to complement the students' regular academic program. The Jefferson County Jr. High School site hosts students in grades sixth-eighth. The site will provide a range of high-quality services to support student learning and development. The services are provided by licensed and /or paraprofessionals.
Registration is open for 21st CCLC Summer Enrichment! Please complete an online registration for each student. Registration does not automatically enroll students. Parents will be notified of student's acceptance into the program. Click the links below to complete the online registration!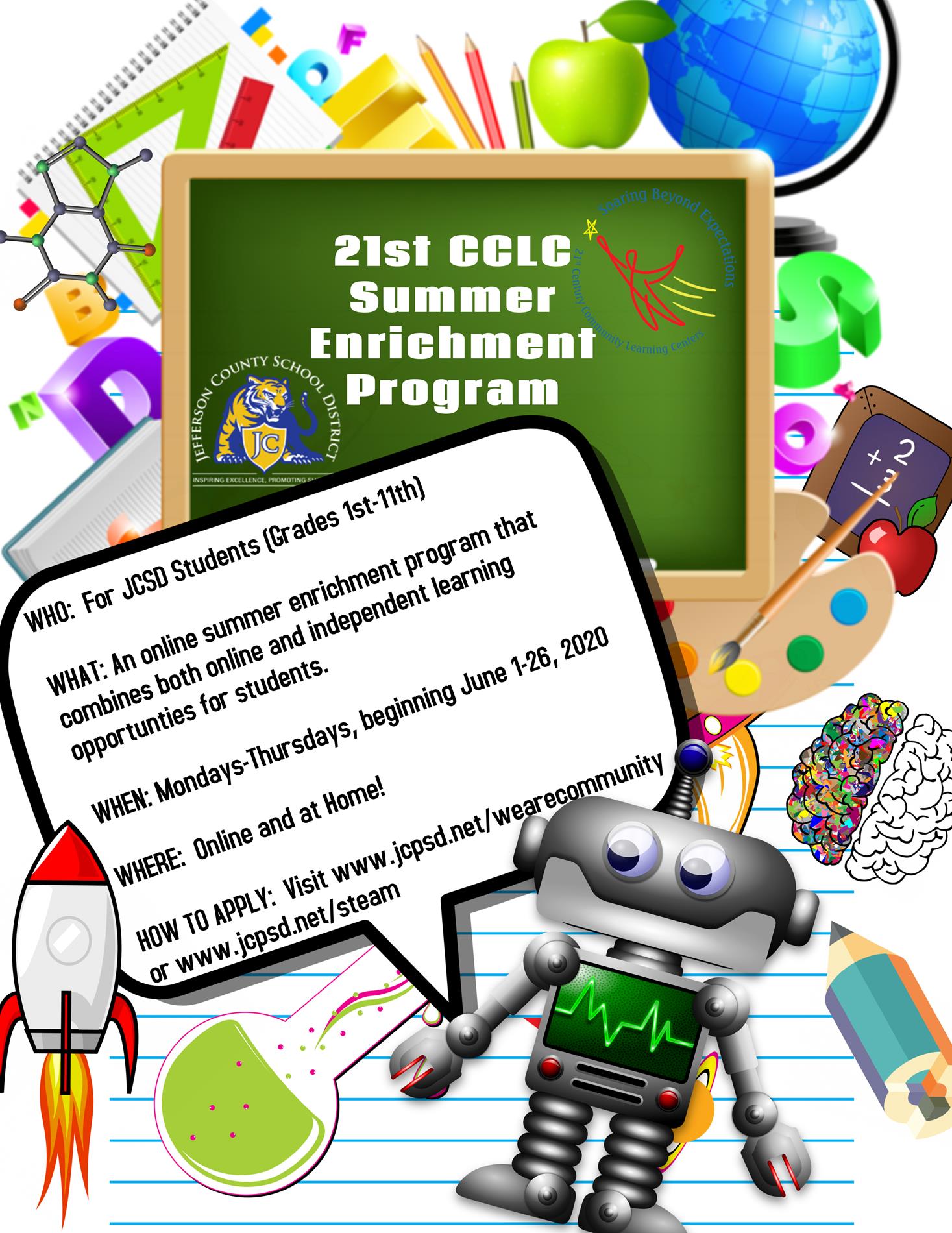 We are seeking interested individuals t serve on the Advisory Council for STEM and the Arts 21st CCLC Programs. Interested individuals should visit the following link to apply.
Click here to complete the 21st CCLC Advisory Council Interest Form! (http://forms.gle/KfvRs3BshhUp9Mq86)

Summer Enrichment Staff:
Teacher Name

Gr.

Subject

Email

Larry Woods

6th

ELA

lwood@jcpsd.net

Terri McGruder

6th

Math

tmcgruder@jcpsd.net

Virginia Harris

6th

Sci.

vharris@jcpsd.net

Terika Council

7th

ELA

tcouncil@jcpsd.net

De'Adriana Jackson

7th

Math

deadrianaj@gmail.com

T

errica Butler

7th

Sci.

tjbutlerw@yahoo.com

Ashley King

8th

ELA

aking@jcpsd.net

LaKeisha Ford

8th

Math

lford@jcpsd.net

Edward Reed

8th

Sci.

edreed@jcpsd.net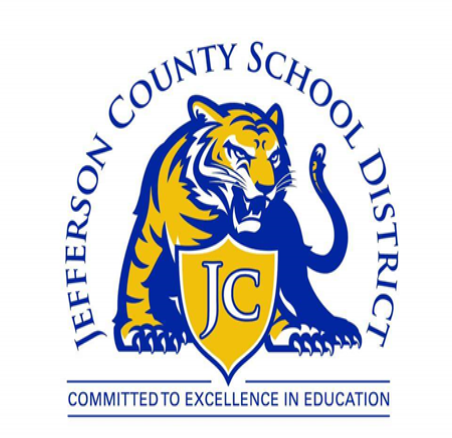 Eligible Participants
Principals, Site Coordinatros, Guidance Counselors and Classroom Teachers will collaborate in determing at-risk students who meet the criteria for the program. Site Coordinators and Teachers will identify student with the greatest need, and those with the risk of failing or falling behind will be given first priority to attend the program. Site oordinators will establish a first an dsecond priority list at each school' these students will be added to the waiting list.
Students in theprogram at each school must meet specific criteria including at least on of the following:
Score within the Tier 3 on the district's universal screener.
Be identified as Lowest Performing Student (LPS) on state assessment(s) and/or the district's benchmark assessment.
Be at risk of educational disadvantage and/or at risk due to circumstances such as low income, abuse, neglect or disabilty.
Be eligible for free/reduce lunch.
It's as Easy as 1-2-3!
Step 1 : Register your child at: 6th-8th Grade Registration Form
Step 2: Download ZOOM (www.zoom.com) on any device ( phone, tablet, computer, laptop,etc.)
Step 3: Join the session by putting in the following login and password at the designated time!!!
Zoom sessions are held only on MONDAY, WEDNESDAY and THURSDAY of each week.
| | | | | | |
| --- | --- | --- | --- | --- | --- |
| 6th Grade | Time: | Teacher: | Program Assistant: | Login Code: | Password: |
| ELA / Poetry/ Art | 8:00-10:00 | Mr. Larry Woods | Shanique Strickland | 989 0381 3560 | Learn6 |
| Math | 10:00-11:00 | Dr. Terri McGruder | Maresha Dortch | 754 5112 2201 | Learn6 |
| Science | 11:00-12:00 | Ms. Virginia Harris | Breyunna Johnson | 769 7720 6876 | 0zP75S |
| Robotics & Coding | 12:00-1:00 | Dr. McGruder & Ms. Harris | | | |
| Virtual Field Trips (Thursdays) | 8:00-10:00 | All teachers | | | |
| | | | | | |
| --- | --- | --- | --- | --- | --- |
| 7th Grade | Time: | Teacher: | Program Assistant: | Login Code: | Password: |
| ELA / Poetry/ Art | 8:00-10:00 | Ms. Terica Council | Clishirra Wilson | 530 302 6451 | 799889 |
| Math | 10:00-11:00 | Ms. De'Adriana Jackson | Markayla Fleming | 946 1635 5315 | 7zJtqR |
| Science | 11:00-12:00 | Ms. Terrica Butler | Kaitlan Malone | 769 7720 6876 | 0zP75S |
| Robotics & Coding | 12:00-1:00 | Ms.Jackson & Ms. Butler | | 946 1635 5315 | 7zJtqR |
| Virtual Field Trips (Thursdays) | 8:00-10:00 | All teachers | | 976 4439 8554 | 9idrDp |
| | | | | | |
| --- | --- | --- | --- | --- | --- |
| 8th Grade | Time: | Teacher: | Program Assistant: | Login Code: | Password: |
| ELA/ Poetry/ Art | 8:00-9:00 | Ms. Ashley King | Jevon Washington | 248 218 7426 | STEMatA |
| Math | 10:00-11:00 | Ms. Lakesha Ford | Lasheka Eanochs | 446 041 6134 | 587326 |
| Science | 11:00-12:00 | Mr. Edward Reed | Rodre' Tenner | 640 827 0439 | STEM08 |
| Robotics & Coding | 12:00-1:00 | Ms.Ford & Mr. Reed | | | |
| Virtual Field Trips (Thursdays) | 8:00-10:00 | All teachers | | 248 218 7426 | STEMatA |