Jefferson County School District to reopen with hybrid classes this fall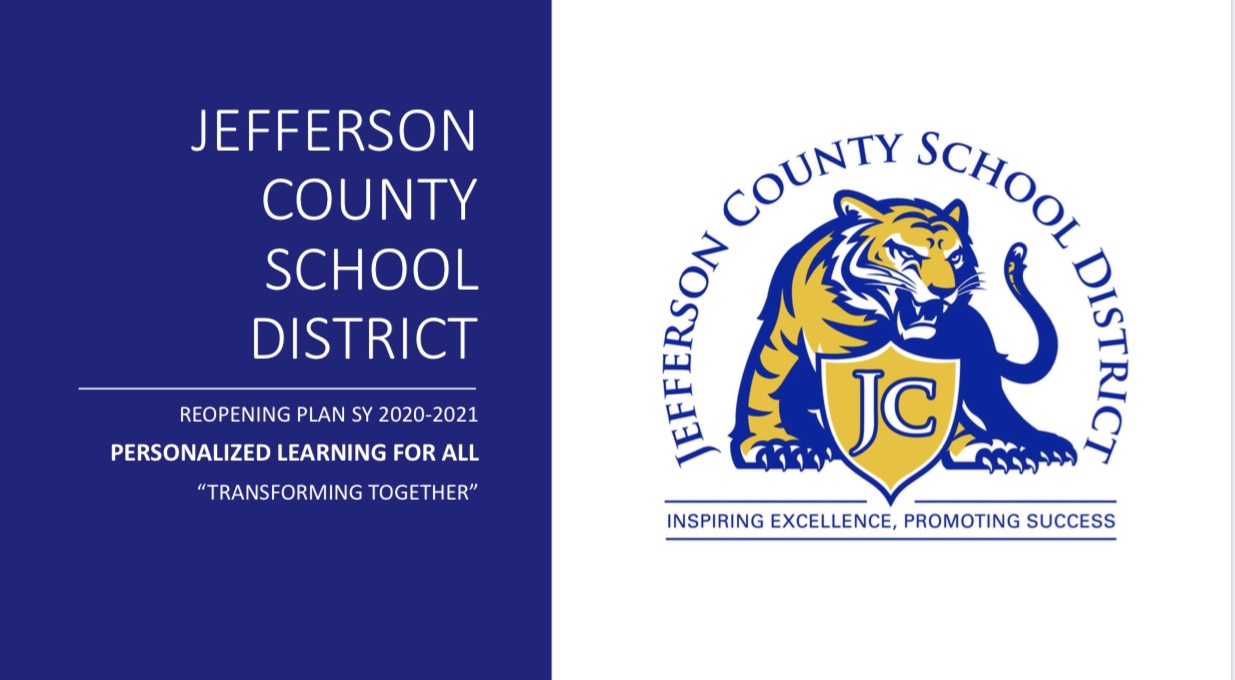 ---
NEWS RELEASE
For Immediate Release: June 29, 2020
Jefferson County School District to reopen with hybrid classes this fall
FAYETTE, Miss. – Jefferson County School District officials have released reopening plans for the fall semester. They decided to use a hybrid system that will incorporate remote learning and face-to-face instruction.
"Our goal is to design a plan that works for all students," said Adrian Hammitte, Superintendent of Jefferson County School District. "I believe we have to implement a personalized learning model that is customized for each student's strengths, needs, skills, and interests. We also have to accelerate learning to address the time loss due to COVID-19."
Hammitte stated that the decision was based, in part, on guidance from the Mississippi Department of Education, and feedback from parents, employees, medical experts, the Community Task Force. The JCSD Reopening Family Survey revealed that a majority of families support the blended learning with daily sessions model. Similarly, the JCSD Reopening Staff Survey found that the majority of employees support blended learning with regular sessions. The Community Task Force also recommended using the hybrid model for reopening schools.
Hammitte said the hybrid model is made up of both virtual learning and face-to-face instruction. Students will be divided into two cohorts (Cohort A and Cohort B) based on their homeroom and will operate on an A and B schedule. The cohorts will be composed based on the student's last name.
Cohort A will attend classes on Mondays and Wednesdays. Likewise, Cohort B will attend classes on Tuesdays and Thursdays. Fridays will be utilized for remediation, intensive support, social and emotional learning (SEL), and professional development. Administrators and teachers will identify students who need additional support for the classes on Fridays.
Moreover, on Fridays, schools will operate on a sixty-three (63) percent day for students. Administrators and teachers will use the remainder of the day for professional development and planning. Daily instructional minutes will increase to ninety (90) minutes for content area courses.
Additionally, seniors who have met the graduation requirements will be able to attend fully online courses for the 2020-2021 school year.
"Based on this model, the average number of students in one classroom is eleven (11)," said Hammitte. "Every school will operate on its regular hours as outlined on the Master Schedule."
Meals will be served in the classrooms for grades PreK-8 to limit movement and maintain social distancing. High school students will be allowed to eat in the cafeteria in small groups. Meal distribution arrangements will be made for students when they are not at school.
Bus routes will reflect the changes due to the hybrid model. Bus riders will be reduced by half, and parents will have the option to drop off and pick up their child.
Hammitte articulated that the hybrid model will allow teachers to work directly with students two (2) to three (3) days a week. "The reduction in students will allow teachers to implement personalized learning effectively," said Hammitte. "Teachers will also provide instructional material, assignments, and projects for students to complete during the days they are not at school. This approach will not rely heavily on technology; instead, technology will serve as a supplement to learning."
Students who have medical conditions will be allowed to continue virtual learning. Special considerations will be given to employees who are at higher risk for severe illness from COVID-19.
Furthermore, all employees and students will be required to wear a mask and have their temperature checked daily. Individuals with an elevated temperature above 100.3 F will be required to self-quarantine. Those who test positive for COVID-19 will have to self-quarantine for fourteen (14) days. Close contacts to COVID-19 cases must be quarantined for fourteen (14) days too. Individuals with an elevated temperature above 100.3 F unrelated to the virus will be required to self-quarantine for three (3) days.
Hammitte noted that school officials would provide social distancing floor and seating markings in waiting and reception areas. The plan will limit nonessential visitors and activities involving external groups and organizations. He stated that staff members would monitor arrival and dismissal to discourage congregating and ensure students go straight from the vehicle to their classrooms and vice-versa.
According to the plan, district and school leaders will provide training for staff members on safety protocols. They will also provide adequate supplies to support healthy hygiene behaviors. Additionally, they will teach and reinforce handwashing with soap and water for at least twenty (20) seconds.
"As the Superintendent of Education, it is my responsibility to make sure every child receives a high-quality education in a safe environment," Hammitte said. "It is my duty as superintendent to make sure every child has access to what he or she needs to succeed. Therefore, as we embark on this new normal, we have to rethink how we educate children. There is a need to transform our entire approach to education. Together, we must transform JCSD to ensure that every child receives a high-quality education. I believe that this model is the best way to achieve our goal."
Hammitte said that he would continue to listen and learn from his constituents, elected officials, medical experts, and colleagues. He encourages everyone to approach this matter with grace, patience, and understanding.
Additional information can be found at https://www.jcpsd.net/reopening. Virtual meetings are planned for employees and community stakeholders.
Questions about the Jefferson County School District's reopening plan can be emailed to jcsdsupportline@jcpsd.net.