Under New Leadership, Jefferson County Marching Band Positively Impacts Students' Overall Educational Experience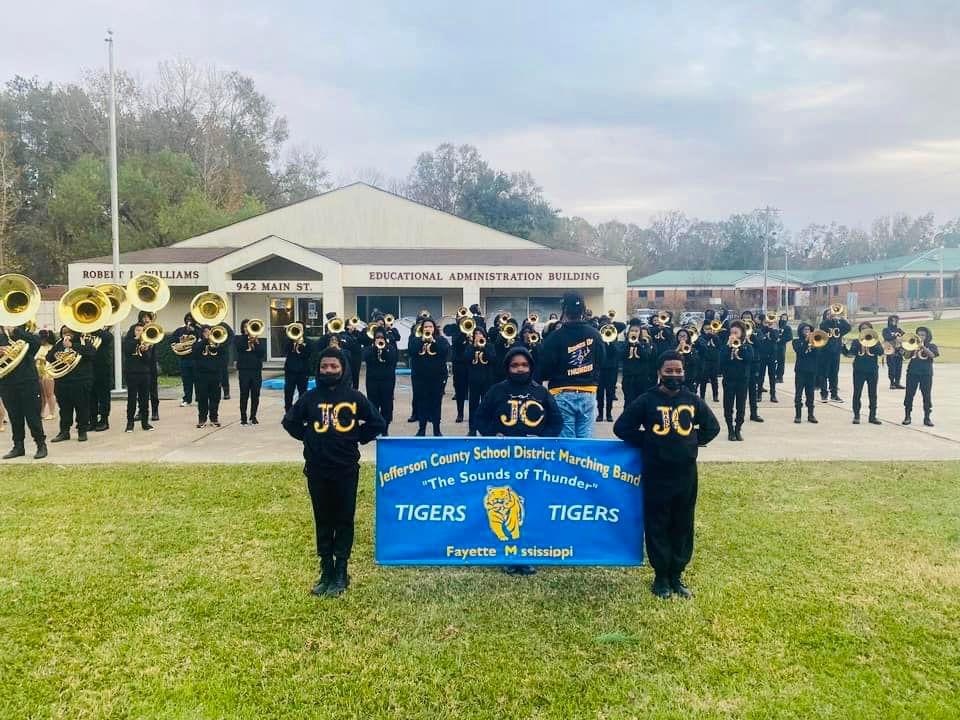 ---
NEWS RELEASE
For Immediate Release: December 14, 2021
Under New Leadership, Jefferson County Marching Band Positively Impacts Students' Overall Educational Experience
FAYETTE, MS – Music has always been a part of the culture of Jefferson County School District. Jefferson County established itself as a musical powerhouse since the 1970s when Mr. Roland Bowser began his career as the band director. For more than 40 years, Mr. Bowser led the Jefferson County Marching Band with style, class, and grace. Thanks to his diligence, dedication, and leadership, the band toured the world and won many awards.

Several band directors have been in and out since Mr. Bowser retired. In 2010, Mr. Melton Harvey was hired as band director. With energy and creativity, he revived the program for the first time in a long time. The band recorded a significant increase in membership; however, it was short-lived because Mr. Harvey got a full-time job at Alcorn State University.

In recent years, the community could only reminisce about past bands due to low participation and inadequate resources. All of that changed when Mr. Andrew McBride and Mr. Jared Rogers were hired to lead the band program this school year. The administration also hired Mr. Ryan Hollingshead, who works with the percussion section, and Ms. Brittany Lyles, who works with the dance team.

Under their leadership, the band program has grown significantly. The number of members in the program has increased from 15 to over 80 in just five months. Recognizing the band's important role in the school district, the Board of Trustees purchased new instruments for the program. Moreover, student enthusiasm for the band is electrifying and contiguous; the band administration expects student participation to increase to more than 100 members this spring. In line with the attitude of students, the community has provided a lot of support and is equally enthusiastic about the band's progress.

The band program has a positive impact on students' overall educational experience. Music education raises cultural awareness, enhances children's quality of life, and creates an atmosphere for exceptional teaching and learning. Furthermore, students are proud to join the band and maintain a high social connection with their classmates. Band members learn about responsibility and often feel a sense of belonging. They also learn leadership skills and values that support personal and professional growth. According to preliminary data, band participants' attendance and academic performance increased while behavior infractions decreased.

Research suggests that a thriving band program changes the school culture. The band directors know that there is a direct correlation between extracurricular activities and academics. Nellie McKay passionately stated, "You know, if I can survive a marching band, I can survive anything." Through their love of music, the directors are committed to ensuring that all band members are prepared to become contributing members of their community and society.