Jefferson County School District Celebrates National School Counseling Week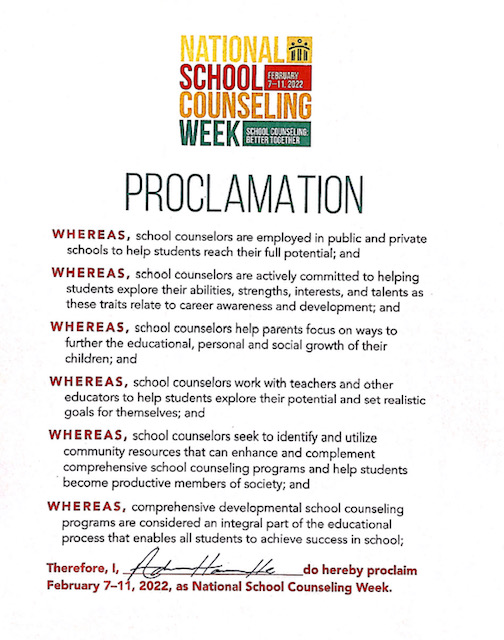 ---
NEWS RELEASE
For Immediate Release: February 7, 2022
Jefferson County School District Celebrates National School Counseling Week

We are super excited to join school districts throughout the United States to celebrate National School Counseling Week. The global pandemic has not just affected teaching and learning; it has also taken a social, emotional, and mental toll on just about everyone, especially our children. Because of these challenges, we rely heavily on our school counselors. School counselors have always been important, but they play a more vital role in providing social and emotional support during these difficult times.
From conducting SEL sessions with students to contacting parents, our school counselors play a critical role in ensuring that students have excellent educational experiences. They understand the importance of addressing the whole child, often serving as a conflict mediator, mental health therapist, educational collaborator, and family liaison. They also realize the value of building healthy relationships. Research infers that school counselors' support for parents and guardians is just as important as the support that they give to students.
"As a former school counselor, I know firsthand the impact counselors have on students and schools," said superintendent Adrian Hammitte. "I am incredibly proud of the work our school counselors do to help students pursue their dreams. Moreover, the commitment of our six counselors is second to none, and we are lucky to have them in our school district. So on this day, it gives me great honor to proclaim February 7-11, 2022, as National School Counseling Week."
Today and all this week, we recognize and celebrate our school counselors. Our school counselors are Mrs. Gretchen Carter, Mrs. Inez Coleman, Dr. Tawanna Gibson, Dr. Courtney Mitchell, Mrs. Ashley Oliver, and Mrs. Kimberla Wilson.