Jefferson County School District announces graduation plans for the Class of 2020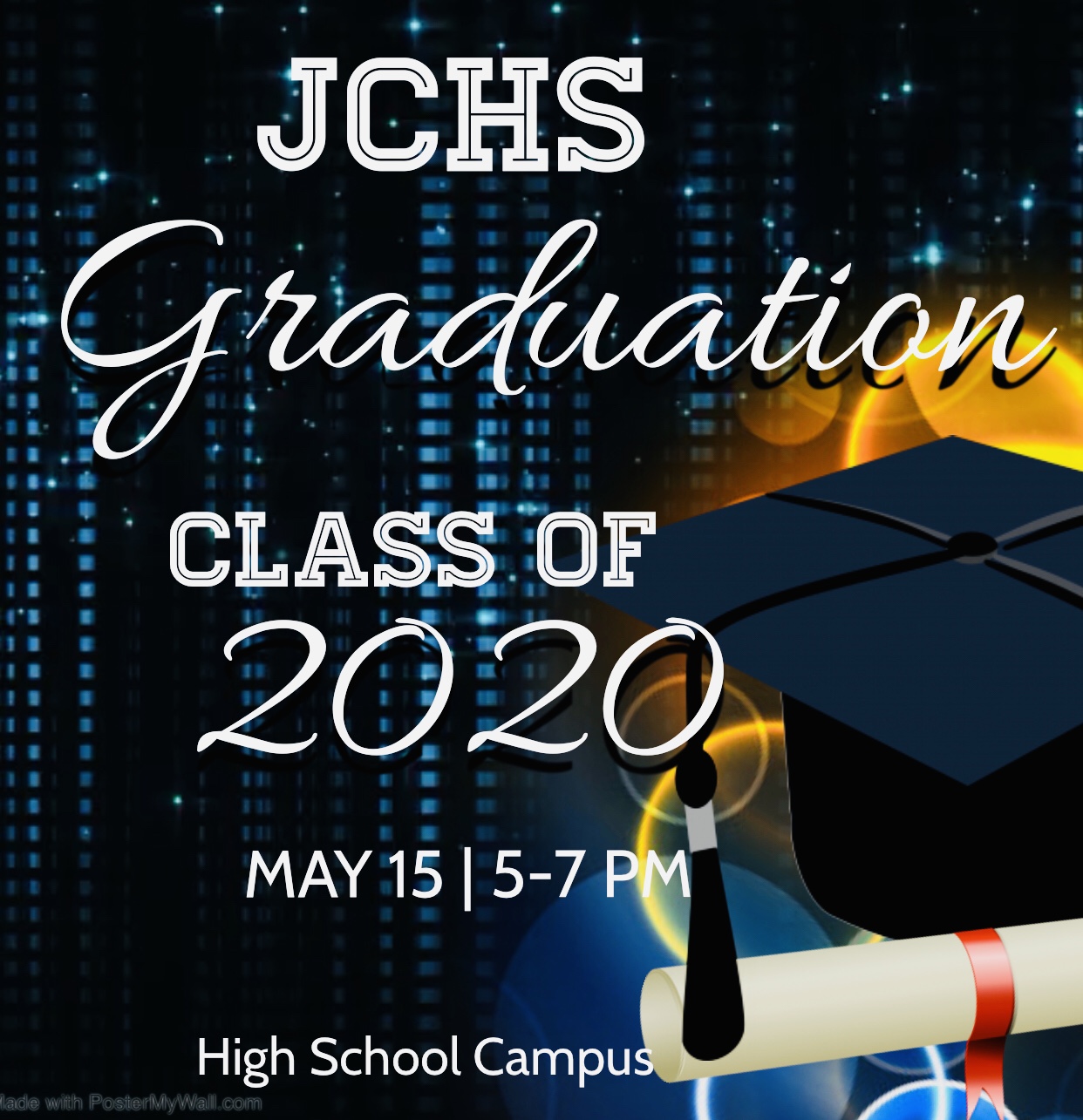 ---
For Immediate Release: May 4, 2020
Jefferson County School District announces graduation plans for the Class of 2020
Graduation is one of those momentous occasions that every child looks forward to. However, the emergence of COVID-19 has changed the traditional graduation that we have become so accustomed to. Despite this new reality, we recognize the importance of our students having a chance to celebrate this great accomplishment. As such, the administrative team has worked diligently to develop an alternate plan to honor our graduating seniors, while adhering to the guidelines set forth by federal, state, and local officials. The commencement exercise will take place on Friday, May 15, 2020. In response to the pandemic and social distancing guidelines, we will hold two separate drive-in graduations on the high school campus.
The following guidelines will be strictly enforced during the ceremonies:
Students whose last names begin with A–I (Group 1) will have their ceremony on Friday, May 15, 2020, at 5:00 pm.

Students whose last names begin with J–W (Group 2) will have their ceremony on Friday, May 15, 2020, at 6:00 pm.

The Ten Top Scholars will receive their diplomas first during the ceremony for Group 1.

The graduation processional to begin at the Central Office. Students will be lined up by the graduation roster and escorted to the high school by local law enforcement. Line up times are 4:30 pm (Group 1) and 5:30 pm (Group 2).

Each vehicle should only have four (4) people inside (graduate included). Families are welcome to decorate their vehicles, but they must be decorated prior to line up.

Groups of six (6) to eight (8) students will exit their vehicle upon being called to receive their diplomas. Family members will be allowed to watch from their vehicles.

Each ceremony will be live-streamed and professional photos of the graduates will be taken.

All graduates must wear gloves.

All attendees must wear a mask.
If the weather does not permit an outside graduation, the ceremonies will be moved into the gymnasium. Students and their guests will be seated six (6) feet apart with a limit of two (2) guests per graduate.
Monday, May 11, 2020 – Light the Night
Stadium and porch lights will be lit for twenty (20) minutes and twenty (20) seconds in honor of the Class of 2020.

Friday, May 15, 2020 – Graduation Ceremonies (All attendees must wear a mask)

Last names beginning with A-I, 5:00 pm – Commencement Exercise with Valedictorian and Salutatorian's speech

Last names beginning with J-W, 6:00 pm – Commencement Exercise with

Valedictorian and

Salutatorian's speech
Monday, May 18, 2020 – Cap and Gown Drop-off (Remain in the vehicle) at Jefferson High School
11:00 – 11:35 Last Names A–F
11:40 – 12:15 Last Names G–R
12:20 – 12:55 Last Names S–W
We would like to thank everyone for their patience and understanding during this time. A special thanks to our high school administrators for their hard work on this event. Our goal is to make sure the Class of 2020 is adequately celebrated and has a chance to properly close this chapter of their lives.